This summer was jammed packed here at 3Forty Productions. In our first blog, we wanted to highlight an event that lasted all summer long! "THIS" is a summer series block party hosted by LowBrau restaurant in midtown Sacramento, California. The celebration ran from May to September and included a beer garden, various vendors, activations such as the Sacramento Comedy Spot, Resolute Circles Group, PLA Skateboarding, and last but not least…the most EPIC street dance party.
The summer series started out with some key players in the electronic/dance world, the two Brooklyn-based producers/DJs, Bit Funk and JNTHN STEIN, with the local duo Blush and DJ Satapana. Later Vancouver-based DJ and EDM producer Felix Cartal joined the party, with support from San Francisco duo NRVS LVRS and a DJ set by Jon Reyes (of the Sacramento-based hip-hop/electro group DLRN). Other artists that played throughout the concert series were: Little Boots (a popular DJ, songwriter, and producer from London), Luke Million (a master of funky dance beats from Austrailia), and Blu J (an underground DJ/producer duo that is about to shatter the international festival world!
The owner of LowBrau restaurant, Michael Hargis, was one of our first concert/music clients. He gave us a chance to truly maximize their events with a limited budget, and we were able to grow with them as a result! We worked together on what mood his company wanted to produce, the energy they wanted to create, and how they expected to make the audience feel. Just because a budget is small- it does NOT mean that your event will be any less impactful. For example, take a look at the photos below: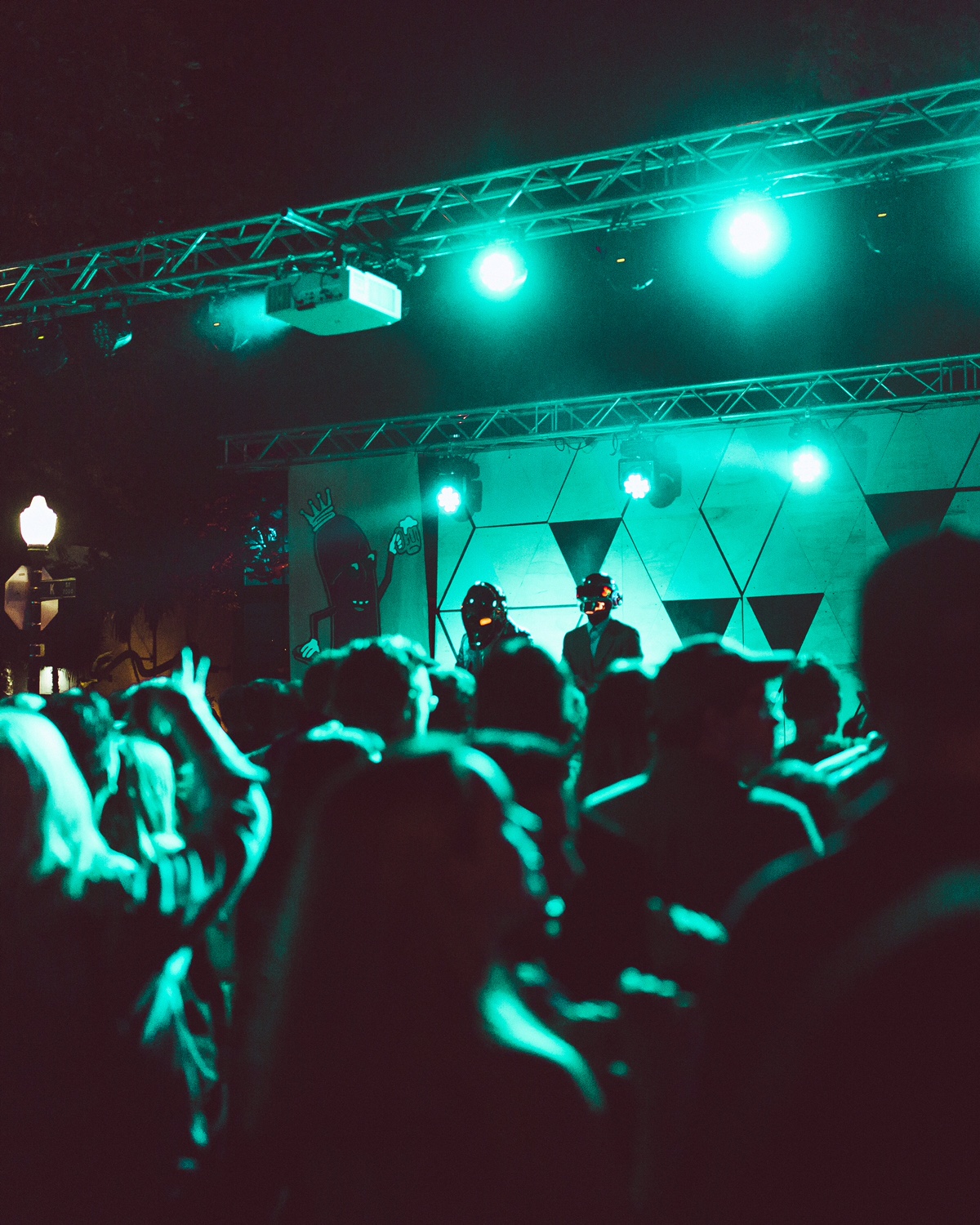 As you can see, the technology at this event is created an amazing atmosphere. The gear that we provided was D.A.S Aero20 PA (which provides high-performance sound), a Midas M32 digital mixer, AT Wireless Mics, and Electro-Voice monitors for audio (which provides an extraordinary control over the sound). But what really made the event stand out is our in-house custom fabricated staging decks, the custom designed and fabricated backdrops, and Elation lighting.
Did you miss this year's party? Take a listen to the THIS' 2017 SoundCloud playlist and get ready to party with us next year:
Do you have an exciting event coming up and need to maximize your event to fit your budget needs? Well, look no further! We pride ourselves on being able to see the potential in all of our clients. We can help you examine different strategies that will help meet your expectations of what the event should look like, all while staying within your budget.
Feel free to email us at hello@go3forty.com, or give us a call at (408) 909-6340 so we can start discussing what 3Forty Productions can do for you!